partywoo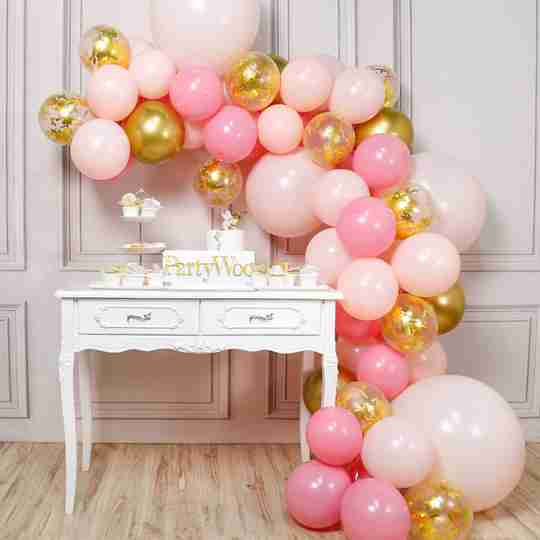 PartyWoo Pink and Gold Balloons, 66 pcs Pink Balloons, Metallic Gold Balloons, Pastel Pink Balloons and Gold Confetti Balloons for Pink Balloon Garland
66 PCS PINK AND GOLD BALLOONS: 12 inch pastel pink balloons (20 pcs), gold confetti balloons (10 pcs); 10 inch pink balloons (20 pcs), metallic gold balloons (5 pcs); 18 inch big pink balloons (4 pcs). Using a pump to inflate these pink and gold balloons is strongly recommended
NON-TOXIC & SAFE: ASTM (American Society for Testing Materials) certificated gold and pink latex balloons, made of natural latex. Each metallic balloon weighs 3.5g, which is 25%~59% thicker than average
WHAT TO FILL WITH: These balloons can be filled with AIR will stay full for up to 72 hours, while with HELIUM will stay full for 3-6 hours. Confetti increase the balloon weight so air fill only. One or 2 water drops into the balloon before inflation can help confetti evenly attach to the inner wall
APPLICATIONS: These balloons are perfect as sweet 16 party decorations, bridal shower decorations, hen party decorations, princess birthday decorations, birthday decorations, gold pink baby shower decorations
PartyWoo Frozen Birthday Party Supplies, Pack of Frozen Party Supplies, Snowflake Decorations, Frozen Party Decorations, Frozen Balloons, Snowflake Balloons for Frozen Birthday, Frozen Party
SNOWFLAKE BALLOONS PACK: 12 inch metallic blue balloons (5pcs), pearl light purple balloons (10pcs), pearl light purple balloons (10pcs), pearl white balloons (10pcs); 5 inch pearl white balloons (20pcs); 20 inch snowflake balloons (2pcs); 22 inch snowflake balloon (1pcs); 28 inch snowflake balloons (2pcs); 35*25cm/ 13.8* 9.8 inch foil fringe curtain (1pcs); 3m/ 9.8 ft white snowflake garland (1pcs); balloon garland kit (7pcs, manual included)
WHAT TO FILL WITH: These balloons can be fill with air and helium. Latex balloons filled with AIR will stay full for up to 72 hours, while with HELIUM will stay full for 3-6 hours. Snowflake balloons foil balloons filled with AIR will stay full for up to 30 days, while with HELIUM will stay full for 24 hours
APPLICATIONS: These balloons are perfect frozen birthday party supplies, frozen party supplies, frozen party decorations, frozen birthday decorations, frozen decorations for birthday party, frozen decorations, frozen birthday party decorations for frozen birthday, frozen party, frozen birthday party
ATTENTION & WARNING: Please use a balloon pump to inflate these balloons. Certain colour difference occurs after inflation, but the colour effect will be better. Please DO NOT overfill the balloons and also avoid sunburn, overheat, pointed object and excessive friction. Strong wind or over clap may cause popping
Beautiful balloon arch!

Garland tape with the holes was perfect and my first time using one as I usually use fishing wire and it was so much easier! Will definitely be ordering another one of these for parties in future! The different sized and colours of the balloons make it easy to fill the Garland out and it looks amazing once you're done!



Great great value for money, beautiful when put together!

Absolutely incredible! So easy to do and looks absolutely beautiful! I am blown away with all that is included in this pack for the price! Excellent product, price, delivery! Not a single fault and will definitely be using again. Thank you partywoo!



slctvrnt:--::|~|:shwqty:--:true:|~|:qty:--:1:|~|:prdurl:--:/cart:|~|:prdttlclass:--:pta-32051255:|~|:prdttl:--:
PartyWoo Butterfly Party Balloons, 82pcs Balloon Set of Butterfly Stickers Gold Mylar Balloons Pale Purple Balloons Confetti Balloons Pale Yellow Balloons for Garden Party and Butterfly Themed Party
:|~|:prdimgtp:--:variant:|~|:prdimgsrcset:--::|~|:prdimgclass:--:zpa-mobile-align--center zpa-align--center pia-32051255:|~|:prdimgalt:--:PartyWoo Butterfly Party Balloons, 82pcs Balloon Set of Butterfly Stickers Gold Mylar Balloons Pale Purple Balloons Confetti Balloons Pale Yellow Balloons for Garden Party and Butterfly Themed Party:|~|:prdimg:--:https://cdn.shopify.com/s/files/1/0046/1963/2758/products/51OXfG6JHqL.jpg?v=1604297225:|~|:prdclass:--:ba-32051255:|~|:prdbtnltp:--:cart:|~|:prdbtnelt:--::|~|:prdbtncpt:--:BUY NOW!:|~|:prdbtnclass:--:zpa-button-padding-medium bcss-32051255:|~|:prdbtnalign:--:zpa-button-alignment-center:|~|:handle:--:partywoo-butterfly-party-balloons-82pcs-balloon-set-of-butterfly-stickers-gold-mylar-balloons-pale-purple-balloons-confetti-balloons-pale-yellow-balloons-for-garden-party-and-butterfly-themed-party-1:|~|:dcrt2class:--:ba-32051259:|~|:dcrt1class:--:ba-32051262:|~|:crtmsgclass:--:pcma-32051255:|~|:brdclass:--:ba-32051265:|~|:addcrtmsg:--:Product has been added to cart slctvrnt:--::|~|:shwqty:--:true:|~|:qty:--:1:|~|:prdurl:--:/cart:|~|:prdttlclass:--:pta-32051254:|~|:prdttl:--:
PartyWoo Gold and Black Balloons, 70 pcs Black Balloons, White Balloons, Black Marble Balloons, Gold Metallic Balloons, Gold Confetti Balloons for Great Gatsby Party, Hollywood Party, 1920 Party Decor
:|~|:prdimgtp:--:variant:|~|:prdimgsrcset:--::|~|:prdimgclass:--:zpa-mobile-align--center zpa-align--center pia-32051254:|~|:prdimgalt:--:PartyWoo Gold and Black Balloons, 70 pcs Black Balloons, White Balloons, Black Marble Balloons, Gold Metallic Balloons, Gold Confetti Balloons for Great Gatsby Party, Hollywood Party, 1920 Party Decor:|~|:prdimg:--:https://cdn.shopify.com/s/files/1/0046/1963/2758/products/51isLUrO6aL.jpg?v=1604308529:|~|:prdclass:--:ba-32051254:|~|:prdbtnltp:--:cart:|~|:prdbtnelt:--::|~|:prdbtncpt:--:BUY NOW!:|~|:prdbtnclass:--:zpa-button-padding-medium bcss-32051254:|~|:prdbtnalign:--:zpa-button-alignment-center:|~|:handle:--:partywoo-gold-and-black-balloons-70-pcs-black-balloons-white-balloons-black-marble-balloons-gold-metallic-balloons-gold-confetti-balloons-for-great-gatsby-party-hollywood-party-1920-party-decor:|~|:dcrt2class:--:ba-32051258:|~|:dcrt1class:--:ba-32051261:|~|:crtmsgclass:--:pcma-32051254:|~|:brdclass:--:ba-32051264:|~|:addcrtmsg:--:Product has been added to cart slctvrnt:--::|~|:shwqty:--:true:|~|:qty:--:1:|~|:prdurl:--:/cart:|~|:prdttlclass:--:pta-32051253:|~|:prdttl:--:
PartyWoo Bee Balloons, 72 pcs Yellow Balloons Yellow Polka Dot Balloons Black Balloons and Bee Foil Balloon, Bee Decorations for Bee Party, Bee Baby Shower, Bee Birthday Party, Mom to Bee Shower
:|~|:prdimgtp:--:variant:|~|:prdimgsrcset:--::|~|:prdimgclass:--:zpa-mobile-align--center zpa-align--center pia-32051253:|~|:prdimgalt:--:PartyWoo Bee Balloons, 72 pcs Yellow Balloons Yellow Polka Dot Balloons Black Balloons and Bee Foil Balloon, Bee Decorations for Bee Party, Bee Baby Shower, Bee Birthday Party, Mom to Bee Shower:|~|:prdimg:--:https://cdn.shopify.com/s/files/1/0046/1963/2758/products/51tIOlvirtL.jpg?v=1604308581:|~|:prdclass:--:ba-32051253:|~|:prdbtnltp:--:cart:|~|:prdbtnelt:--::|~|:prdbtncpt:--:BUY NOW!:|~|:prdbtnclass:--:zpa-button-padding-medium bcss-32051253:|~|:prdbtnalign:--:zpa-button-alignment-center:|~|:handle:--:partywoo-bee-balloons-72-pcs-yellow-balloons-yellow-polka-dot-balloons-black-balloons-and-bee-foil-balloon-bee-decorations-for-bee-party-bee-baby-shower-bee-birthday-party-mom-to-bee-shower:|~|:dcrt2class:--:ba-32051257:|~|:dcrt1class:--:ba-32051260:|~|:crtmsgclass:--:pcma-32051253:|~|:brdclass:--:ba-32051263:|~|:addcrtmsg:--:Product has been added to cart